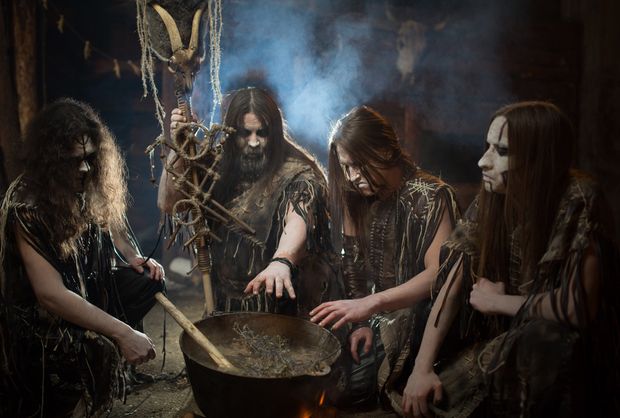 "We have always been an underground band and will stay underground." - states the frontman of NOKTURNAL MORTUM, Knjaz Varggoth. Truly, after many years of existence the band still cherishes the underground traditions, however we can't finish the presentation of this band just like that because there is so much to say about them. Formed after the collapse of Soviet Union, NOKTURNAL MORTUM were one of the founders of Ukrainian black-metal scene. From the very first works, especially starting from the second full-length album "Goat Horns", their music had some empyreal element of a parallel world. It is also hard to assign a genre to them – during more than 20 years already; they create a tale of Black, Folk, Symphonic, Pagan styles, sometimes with nuances of Progressive and Post-Rock. And the most wonderful thing is that everything is in its place, you just couldn't add or subtract anything from their creation. These musicians are perfectly able to rely on their musical instincts, not on defined canons.

Started in 1994, the band has numerous lineup changes because of different reasons, but its core, Knjaz Varggoth goes forward from the very beginning until now. Also, now he is complemented by four young and talented musicians. Knjaz Varggoth says that this team has an especially matching feel for music. It is verified by The Ukrainian Metal Act Awards – band's newest album "Істина" is awarded as the Best Ukrainian metal album of 2017. By the way, it is worth mentioning that the band had worked not only with such famous labels like Nuclear Blast, Osmose Productions, The End Records, but also with Lithuanian Ledo Takas Records ("Nechrist" double LP, 2004)!

One very important part in their creation is Ukraine: "We are proud to be a Ukrainian band! Always remember that while listening to our music. If you don't like it, leave us alone, just forget about us. That is because we create music only for those who understand us and experience everything together with us. <...> Having seen heroism, endurance, and pain, blood and tears of our nation, I have understood so much. Everything will be reflected in new NOKTURNAL MORTUM era."

We think that all of these could be familiar to quite a few countries who fought for their identity, so we invite you to support, listen, be there!