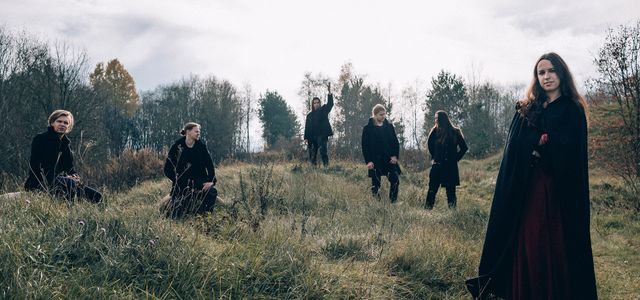 ŪKANOSE is a Lithuanian folk metal band formed in Vilnius, Lithuania, in 2012 by guitarist, songwriter Linas Petrauskas, accordionist, songwriter Tadas Survila and drummer Vilius Panavas.
In 2014 the single "Trijų seselių" was released and after a year recording of the full length album begun. In the autumn of 2015 the bassist and both vocalists left the band and two new members joined in: Andrius (bass) and Robertas (guitar). At the beginning of the year 2016 the new vocalist Martynas (who recorded the vocal part of the debut album) joined the band. Among many concerts in Lithunia they participated in such festivals as "Iš kartos į kartą - 2013", "Margos pievos - 2013 " "Kilkim žaibu - 2015","Zobens un Lemess - 2015 " (in Latvia) and "Mėnuo Juodaragis XIX – 2016".
The debut album "Ūkanose" consists of nine songs that fans may already know! Recording and mixing were done by Muzikos laboratorija. The cover artwork, created by Natalia Nadia Osipa. Album design was made by Kornelija Jociūtė. You can purchase the album at the label's "Soundage production" webshop or contact the band directly. Also you can get the album at Google play, Itunes, Deezer and Spotify.