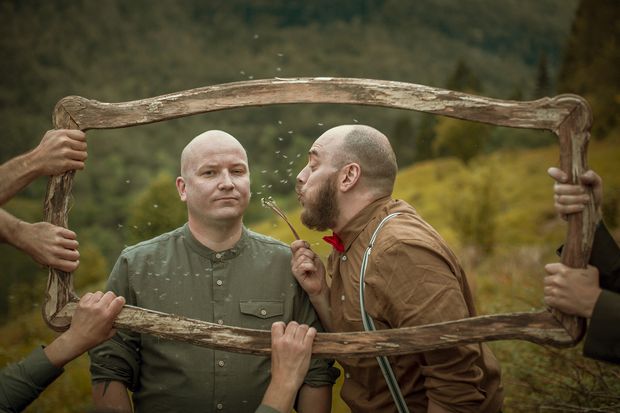 On March 9th, in club "Pelėda", the masters of avant-garde VULTURE INDUSTRIES will throw an amazingly theatrical performance for one more time in Lithuania. The band will present their new, matured and long-waited album "Stranger Times".

Though VULTURE INDUSTRIES performed last year in Kilkim Žaibu festival, we have already missed them. The more that now we will have an opportunity to hear their newest album, which is really special – according to band's frontman Bjørnar, the creation of this piece had taken quite a lot of time, because band members experienced many personal life changes, so all of the songs had been harmoniously laid to one solid entity. This album is weirdly transcendent and aesthetic, progressive. It is not very easy to listen to it, it winds straight to the soul, in some places maybe even a little bit disturbingly… And finally – "Stranger Times" prove that in current satiate world it is still possible to create something original, free of rules!...

During their musical journey, VULTURE INDUSTRIES had resisted the Norwegian Black Metal mania and developed very individual style, containing plenty of different elements. This style could be characterized as Progressive/Avantgarde metal. Their exclusive creativity and ability to change gears between completely different genres helped VULTURE INDUSTRIES become known in whole world and perform in full venues. Oh, you should really see the eccentric performances of the frontman Bjørnar E. Nilsen! Actually, quite many critics compare them to the unique acts such as Faith No More, Arcturus, Devin Townsend or Enslaved.

We believe that VULTURE INDUSTRIES concert in "Pelėda" will be again different from what we have seen in openair. Enclosed area will help to create a better bond between musicians and the audience and for everybody to truly participate in the event, not only to observe it. We prepare for this performance really carefully and wait for it with anticipation because we know that it will simply be very very good. Perhaps you feel the same?...

Information about support bands and tickets will be announced soon.