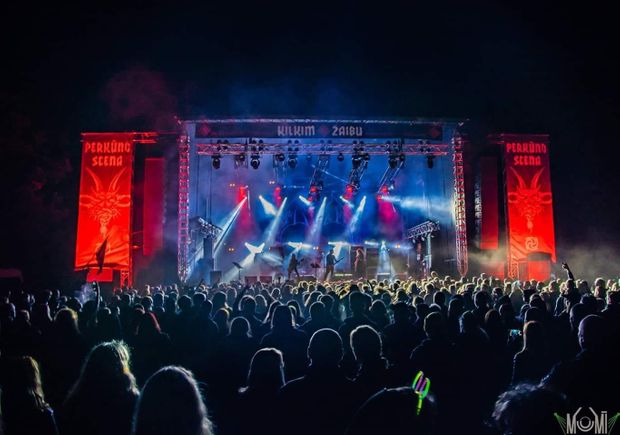 The first thought, left after this year's anniversary, is this: KILKIM ŽAIBU is a festival of good people! I admit that I sometimes feel that I didn't choose this fate of organising festivals for good people. It seems that somebody pushed me towards it. There was a time back in my youth, when I lost many close and good friendsandpeople, including metal fans. But I don't live in the past – it's only my inspiration. Thus now I keep marvelling at the number of the new good people that surround me today. I've no idea, where they come from and how they find each other. What I only know is that they are brought together by KilkimŽaibu.
I'll start with the TEAM. It's amazing. I haven't met any other people as dedicated as the team, working hard for our common goal free of charge. Most powerful businesses could envy such dedication and, I think, it's impossible to win it with money alone. The unity for a common ideal is beyond that. This time the team was particularly strong. Our numbers were small and we couldn't handle some things, but none of us have given up – we took care of each other and got through nearly in once piece. Dear team, thank you for being there and thank you for being such good FRIENDS!
The audience. I can't imagine a better one. It was truly a pleasure to see so many good, friendly faces in one place, everyone so playful, fun, polite and understanding. We haven't seen any rubbish, there were nearly no incidents and the tolerance of the audience has been praised even by the parson of Varniai. The encounter of two processions – a group of churchgoers and a gang of our dark bunch, waiting in line for their kebabs – did not involve any insults, cussing or any signs of disrespect, except for several curious glances and selfies. I was very proud to hear this: we give the society what they expect the least – tolerance to others.
The artists. 95 % of the artists, musicians, reenactors, etc. were immensely positive and friendly. I am glad that the remaining several per cent, although modest, did not show any insolence. Everyone took their jobs seriously and there were no serious misunderstandings.
The stages. Both of them were really high-class. There were no negative comments from our performers – only praise. We were always happy about the quality, size and sound of Perkūnas stage, but this year the lighting was something too! Everything was perfect. We'll do our best to keep up with this level in the future.
Food and beer. A variety to choose from and quality service – we are satisfied with everything. While Dundulis' Kilkim Žaibu' Ale was beyond everything. Absolutely no comments! Its quality has met all expectations of the anniversary.
Security. I've heard various opinions, but the majority of them said that the security was too strict. And here we beg to differ. The security was strict for the sake of the safety of the audience. Thanks to them.
Organisation. The organisation is subject to some self-criticism. Despite of a year of tireless work, not everything was smooth. The festival is not our job, it's a hobby. We work for free and shape the event around the budget, collected from our audience. We work only for you and no one else.
It is clear that we weren't ready for such a huge crowd – there were no significant signs of the numbers of incoming audience. And when it happened, it was already too late to change anything and we did what we could. We are truly sorry for the long queue at the gate on the first day of the event. There was a shortage of wristbands and cups, the number of toilets was insufficient and, even though we did order more, it was impossible to get enough of them on a Midsummer's weekend. We had them cleaned quite often, but it was not enough. Merchandise – the amounts and demand are unimaginable. There was a shortage of them again.
We do see the situation and will consider it in the future.
Conclusions. Yes, there were mistakes. But overall we really liked the event ourselves. The amount of foreign guests is truly impressive. While the increasing ranks of Lithuanians show that, perhaps, the society is beginning to understand that metal culture needs its rightful place under the Lithuanian sun too.
I keep repeating 'good people', but it doesn't mean that the event is changing its style or genres. Absolutely not. It's a metal festival. And the darkness of this festival is full of light.
About the future. This topic seems to be drawing lots of attention. There are all kinds of thoughts. Thoughts about having a rest, changes, some fresh air, etc. Let these things come naturally, there's time and place for everything. But be assured that we love seeing you all and 20 years should not become a reason for us to say our farewells.
We are not ready for the end ourselves, because there's still so much we want to do.
And I know that we can do even better! Kilkim Žaibu has lots of fire and lots of good people. Rest assured, we'll meet again!
Rock'n'roll to Valhalla!
Daividas
The organiser