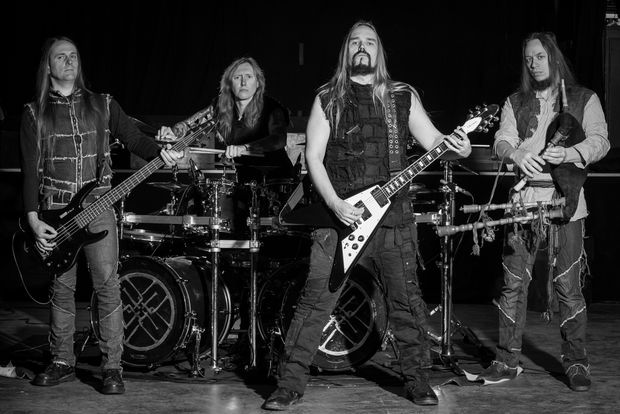 This year it is the 20th anniversary not only for Kilkim Žaibu, but also for the band, which will storm the festival's stage already for the 5th time: the band, that became the legend of Estonian metal – METSATÖLL ! During the 20 years, the band has seen better and worse, but just like true wolves of the Estonian woods, they are unstoppable and just keep on going. The band celebrated the 20th anniversary with a new album "Katk kutsariks" (est.: Plague Coachman) and is actively performing and already on Saturday will rock the stage of KILKIM ŽAIBU, where they are going to put on an incredible show. We are glad to share a conversation we had with the co-founder of the band and the band's guitarist and vocalist Markus.

This year METSATÖLL is celebrating its 20th birthday. During the 20 years, both music and people have changed. Did you believe 20 years ago, that the band would go this far and would last this long?

True, this year, METSATÖLL is already 20 and we are going to celebrate this year with a bang. As much as we can. 20 years ago no one would have believed that the band would still exist now but we are going on strong. I am very proud of that and I think that METSATÖLL is the most important thing, that I have created in my life. The band was with me for the better and for the worse my whole life and it is an amazing feeling.
To celebrate the anniversary you released an album "Katk kutsariks" (est.: Plague Coachman). What does this album mean to you?

The new album means a lot to us. It marks our 20th anniversary. Since we don't have a contract with a record company, we had been negotiating with many companies, who wanted to release the album in autumn, but we together with METSATÖLL decided that the album has to be released on the 20th anniversary and so it happened. And this is exavtly what it means to us: our wolf mentality and independence.
You have mentioned in some interviews that you went back to the roots with this album. Was that intentional and what does that mean?

I think, that it is because nowadays there is a huge exchange of information and many people kept asking what kind of an album it would be when it comes out. I think, that by "back to the roots" we meant that, while we recorded the previous album using a lower tuning, with this album we got back to the usual rock'n'roll tuning. The songs were created and the process itself was similar to, say, "Hiiekoda" (est.: Sacred grove), but emotionally and spiritually it feels more like "Äio".
What was the main inspiration and what is the message of this album?

The inspiration for this album specifically was playing together. Initially, we have been jamming those songs near the Latvian border, in Kaika, and later we have been constantly practising them in Tallinn. It was born from this joint inspiration. And this is what the album means to us: METSATÖLL wants to be METSATÖLL and will go on this way.
Lately, you have started experimenting more and more (e.g. adding guest vocalists). What brought you to it and why now?

The experimentation was quite accidental. This happened because we like creating our albums so that there's always something new. We have never written any songs on purpose in order to fill in the gaps in albums and when Lauri wrote "Ballaad punastest paeltest" (The Ballad of Red Ribbons), we thought: why don't we try making one song with a female vocalist this one time. We also had one heavy song, "Koduhiite kaitsel" (Defending Sacred Home Groves), which the bass player was not a big fan of. When we added operatic vocals, which METSATÖLL has never experimented with in the past as well, the song got a completely different feel to it and was reborn, which is exactly why we did it. But of course, we can't play them live this way every time.
What are your plans for the anniversary and what are your future plans? Where would you like to be in 10 years?

The plans for the anniversary are of course playing as much as possible: to take it all and offer long and quality concerts. This year at some point we should also have a stronger anniversary drink in the name of the anniversary. Many anniversary related things are still in the future, but we will keep you posted about that. In 10 years I would still want to be the here, in METSATÖLL. Of course, I would like to develop together with METSATÖLL, tour even more, for example, why not with Latvian and Lithuanian bands, so we could create things, that would not become stale, that would keep moving forward. In my opinion folk metal is truly valuable and it could continue to flourish like heavy metal does.
You have played everywhere in the world. How does the public receive you abroad compared to Estonia and where is it better to play: home or abroad?

It is true. We have played all over the world. It is very individual how the public receives us. Of course, home stays home, but we have been surprised by how well we have been received in North America as well as South America. But still. Home. Definitely home.
In which foreign country have you played the most?

When it comes to foreign countries we have played in Finland the most. I think it's over 60 times during our history, that is during our existence. Why so? Because we get invited. Invite us and we will come to play!
Which concert is the most important in your career and where do you like playing the most?

Every concert is the most important concert in our career! And we like to play everywhere, where we are invited.
Now that music became your work, do you still go to concerts by other bands? What is the concert of your dreams?

To be honest I must admit that I really did not manage to go to many concerts because I am always busy with concerts myself. But the concert of my dreams.. I'm not sure.. It might be great to see Pink Floyd live at some point. The last concert that I went to was by Cannibal Corpse.

This year METSATÖLL is not the only one to celebrate the 20th anniversary, but also the biggest metal festival in the Baltic states: Lithuania's KILKIM ŽAIBU, which focuses on black metal and folk. Your music fits perfectly and you will be playing there for the 5th time. What are your memories of the festival?

We are truly happy, that we will have the opportunity to play at the 20th anniversary of Kilkim Žaibu. And it is so because to me Lithuania is like the purest land overall that preserves the genre and I hope, that Kilkim Žaibu will grow into a festival like Tuska open air in Finland. Tuska open air is such a cult festival where all the bands want to go, it is like a milestone in their career if they have managed to play there.
Touring abroad I have been talking about Kilkim Žaibu and the flag of Kilkim Žaibu is flying very high now. Lithuania can't lose this and should totally continue with Kilkim Žaibu, because Kilkim Žaibu should become such a cult open air that the most famous black and folk metal bands would feel as if they have never even existed if they hadn't played in Kilkim Žaibu. And I am holding my fingers crossed! I have played there many times and the feeling, the atmosphere is the purest in the genre and the most genuine ever. I also have many acquaintances from America, who have finaly discovered this and also come to these true festivals, that are not these 'plastic-sword' festivals so to speak, but rather to this type of festivals. And long live Lithuania is what I say, damn it!
I hope that Kilkim Žaibu this year we will come back to Lithuania after a long time and will put on a show that it will become the most awesome concert of the anniversary of METSATÖLL and we will be talking about it the whole year!