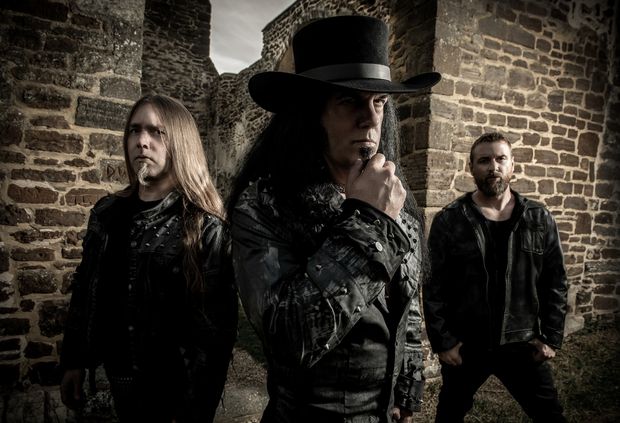 The title of VLTIMAS (proncounced – Ultimas) may be unfamiliar even to the greatest connoisseurs of the metal scene. But this is no ordinary metal band. This team belongs to the rare circle of 'superbands'. Because its members don't need to prove anything to anyone. They have already done that playing with bands like Mayhem, Morbid Angel and Cryptopsy, leaving a deep mark in the metal scene.
The project was founded by Rune Eriksen (Aura Noir, Mayhem), who was absent from the great black metal scene for a few years and now decided to take a deep dive back into the area that he knows so well. Eriksen's signature are the classic, cold Scandinavian riffs, combining the darkness and the cold, followed by strong death metal slashes. Eriksen is accompanied by Flo Mourner – an old acquaintance from Cryptopsy – with whom they had played together at Nader Sadek.
The opening of the treasure chest of Eriksen's riffs left no other choice than to find a vocal. And the vocalist to accompany the titans of the metal scene had to be as impressive a figure as they were. Thus, the list of choices wasn't long. Erikson knew David Vincent (Morbid Angel, I Am Morbid) since Mayhem and there was no one better to fill in the gap in the band that already carried so much power. Thus VLTIMAS – the new icon of black/death metal – was born and released their album "Something Wicked Marches In" in 2019.
What makes VLTIMAS stand out even among other superbands is the fact that not only each of the members bring their unmistakeable presence to the table, but also create an artistic symbiosis, which makes the band something more than just a product of three individual famous musicians. It is a band with a clear attitude and an unbeatable vision. The all-encompassing high-pitch and brain-wrecking musical foundation, supplemented with a fierce legendary vocal, demolishes everything on its way.
With their début album, VLTIMAS has already ravaged the most famous metal festivals all over the world, such as Wacken Open Air, Brutal Assault, Hellfest and Graspop. Having heard them play live, KILKIM ŽAIBU organisers can guarantee that the audience of the oldest metal music festival in Lithuania can expect an extraordinary and strong performance as well!