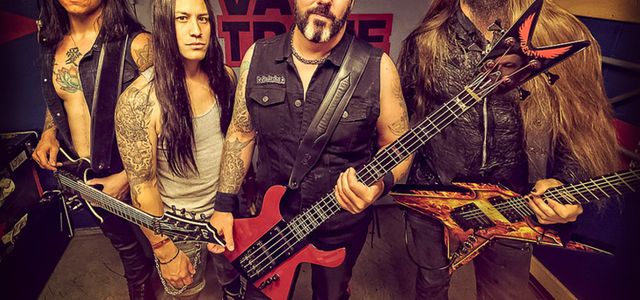 Your gateway to a parallel world, KILKIM ŽAIBU XIX present you one of main festival guests - David Vincent, voice of legendary American death metal band MORBID ANGEL. This time he will come to Lithuania with his new band I AM MORBID!


"I am definitely not an angel; I AM MORBID" – states David Vincent, the legendary American vocalist and bassist, whose name is virtually inseparable from Death Metal giants Morbid Angel. Perhaps this statement is not answer the question why David and Trey Azagthoth (guitar player of Morbid Angel) chose to go in separate ways. However, this splitting seems not to be gloomy, it is intriguing and promising. In the first place, David says that he left Morbid Angel due to creative differences. Yet his contribution to the Morbid Angel's creation does not fade away just like that, David thinks of his songs as his children that can't be forgotten.

So here is the point, where I AM MORBID comes into existence. It's a brand new force, they performed for the first time only in the middle of 2017; now they're already headlining many metal festivals, and in 2018 they will also dominate Kilkim Žaibu main stage! The members of this band are the former rhythm section of Morbid Angel (David Vincent and Tim Yeung on drums), and two also well-known metal guitarists Bill Hudson (Circle II Circle, Trans-Siberian Orchestra) and Ira Black (Metal Church, Lizzy Borden).

I AM MORBID will perform best compositions from the first four albums by Morbid Angel: "Altars of Madness" (1989), "Blessed Are the Sick" (1991), "Covenant" (1993) and "Domination" (1995). All these albums are legendary in metal world.

Overall, first Morbid Angel's album with David "Altars of Madness" is considered one of the most significant albums of the genre, it defined Death Metal as we know it. If you still have any doubts about Morbid Angel's impact on the scene, maybe the numbers will speak better: their third album "Covenant" has become the best-selling death metal LP of all time, with over 150,000 copies in the United States alone. They also were first Death Metal band signed on a major label, which helped to earn mainstream success, Morbid Angel's videos were on MTV and they appeared in cult animation sitcom "Beavis and Butt-Head". Now, many famous bands cite Morbid Angel as their influence. Among them are Immortal, Behemoth, Gojira, Krisiun, Opeth and many others.

Treating I AM MORBID as a separate entity; David Vincent does not refuse that they might release new songs sometime. In addition, the musician encourages the fans not to take sides between the past and the present, just enjoy timeless music he wants to share with the rest of the world. In David's words, that is all I AM MORBID is about - rejoice of original Death Metal, with dignity and pure pride, a gift from the creator to the fans.


Ladies and gentlemen, please welcome the "God of Emptiness" David Vincent & Co. at Kilkim Žaibu XIX, on Saturday, 30 June!